Capitão Nemo is a small company but with a great ambition: simply to serve well and aim for excellence.
We offer various services, from recreational such as boat tours, scuba diving tours and training; to professional services as maintenance, sea rescue and salvage and underwater specialized works.
The team… we are 3 people (and Pipoca), but with the experience, attitude and common sense combined with good humour and wellbeing. This is the main feeling that we want to convey to you – our customer.
"Capitão Nemo I" is a typical rescue boat adapted for tourism with capacity for 20 people which guarantees exceptional safety conditions, being unsinkable due to the air chambers around it.
It's composed by jockey seats, which are wider than usual, providing more comfort on fantastic rides; and by bench seats, one behind the captain which provides less exposure to weather conditions, being ideal for seniors or families with children, babies in arms, or simply if you want more privacy.
For a more comfortable journey in terms of space, we limit ourselves to 16 passengers. In this way, the conditions for an unforgettable, exciting adventure with a dose of adrenaline are guaranteed. Are you ready?
PEDRO FREIXO
FOUNDER CEO & CAPTAIN
Pedro Freixo is the Founder, CEO and Captain of Capitão Nemo. A lover of the sea who dedicates himself 100% to his company to provide a service of excellence in all his services and to his customers.
Pedro has an extensive international experience in the field of Industrial and Recreational Merchant Diving and Nautical; he was manager of fleets and skippers for Maritime Truistical companies; Maritime Consultant with more than 10 years of experience in training both professional and tourist teams; Supervisor of Diving and Maritime Operations in the Oil industry; and also, Manager and Instructor in several diving schools.
Many years of experience give Pedro an unrivaled simplicity, humility and confidence both above and underwater.
Today he is finally living and sharing the dream with you, Captain Nemo.
'When you work at what you love, you don't have to work a day in your life'
A love at first sight, abandoned and rescued from the street to become our mascot today.
Likewise, a lover of the Sea, she loves both the land visitors as well as the marine inhabitants that we share so much with you, the Dolphins! Always excited to see and to find them, she is the first to raise the alarm when 'Dolphins in sight!'
Her joy delights all the children and adults on board. (And no, you can't take her home!)
PS – Pipoca comes on the boat trips most of the time, if anyone has concerns, please get in touch when booking.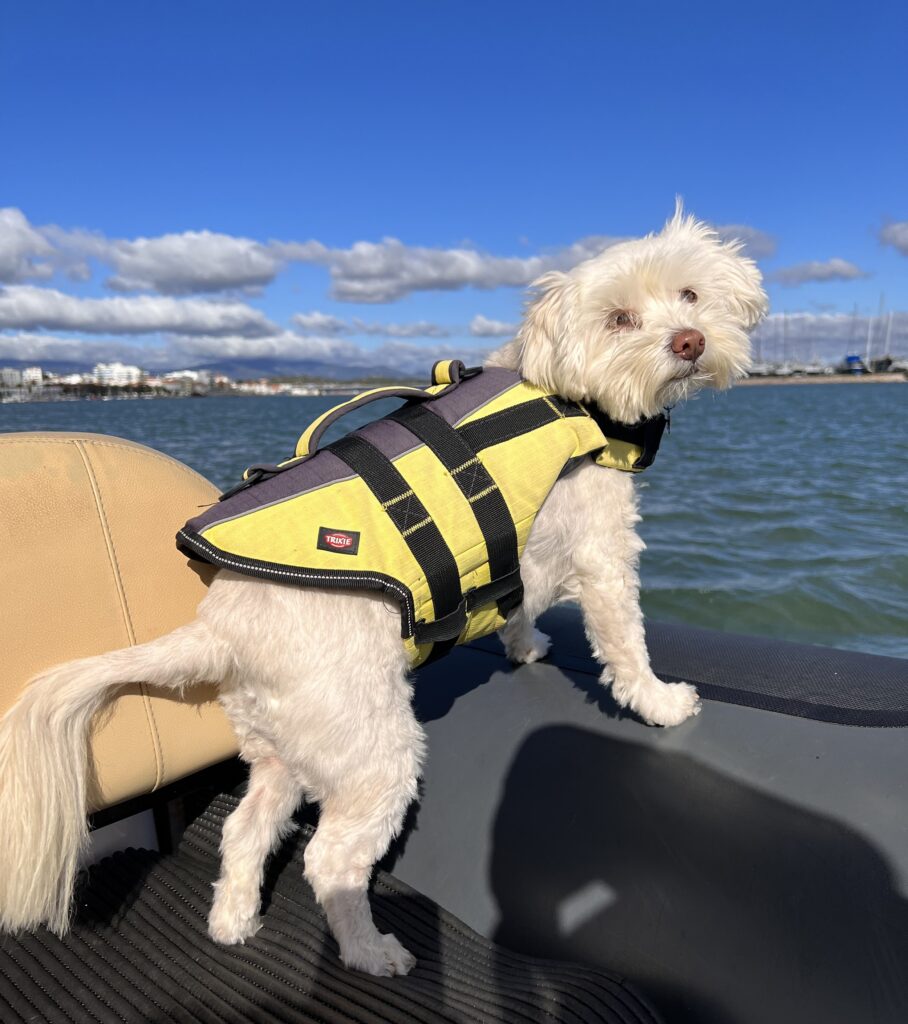 WHAT OUR CUSTOMERS SAY ABOUT US

Great shipwreck diving Great diving trip with Pedro and his crew, water was a bit chilly (Diving in early February) ???? , but the shipwreck is definitely worth checking out ????????

Muy recomendable Fue estupendo. Pasamos una tarde fabulosa. Pedro es un gran profesional, muy atento y agradable. Nos hizo disfrutar con su conocimiento de la zona. Vimos un montón de delfines y no escatimó en tiempo para que pudiéramos seguir disfrutando de esa maravilla. Millones de gracias!!!

Una experiencia inolvidable Una experiencia espectacular, el patrón, su compañero y Pipoca han sido unos compañeros maravillosos. Se nota que es un gran profesional, disfruta de su trabajo y nos han sorprendido con unos mamíferos, que nos han acompañado durante una parte del viaje. Las vistas maravillosas.
Lo recomiendo.
Recomendable 100% Muy buena experiencia. El capitán y su compañero han sido estupendos. Solo cogimos la vista a las cuevas y aún así pudimos ver los delfines, además de ser súper respetuoso con ellos no dudó en estar más tiempo para disfrutar de su presencia. Recomendable 100%.

Salmantinas por Portimao Experiencia muy buena, el capitán, su compañero y Pipoca han sido geniales y muy amables.
Disfrutar del paisaje, conocer más de la cultura, baño en el mar y ver a los delfines porque coincidimos con ellos.

Se nota que disfrutan de su trabajo y se agradece compartir experiencias con gente especializada.

Recomendable 100%

Great half day relaxing, fabulous scenery, with dolphins watching. The skipper Pedro arrived on time and gave detailed joining instructions. The boat seats 16 persons. The trip was easy going and relaxing, with Pedro giving explanations of the towns and caves that we visited. The hi light was around 20-30 mins in the area where the dolphins came up and the children loved it. The caves near Benagil and Marinha were fantastic and we had a little swim there before heading back.
Great adventure! Great trip, great captain, have seen two times dolphins, seen beautiful caves, us and the kids had a lot of fun! Thx a lot for this great adventure!

Excelente experiência Super recomendável para quem está no Algarve e quer fazer uma tour bastante completa. Em 3 horas conseguimos ver os golfinhos e as grutas, interagir com o grupo até com direito a lanche. A maior atração sem dúvida a Pipoca, a mascote do Capitão Nemo 🙂 Obrigada pelo passeio memorável, sem dúvida para repetir!